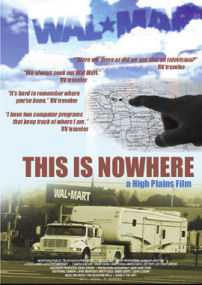 This is Nowhere -- a High Plains Film, a Doug Hawes-Davis Documentary

No, not the Wally World of National Lampoon's Vacation, but Wal-Mart, the mega chain. There is a growing sub-subculture in America that travels the United States, Canada, and Mexico connecting the dots between Wal-Mart parking lots. Their guidebook is a special "Wal-Mart" edition Rand McNally Atlas indicating the location of all the Wal-Marts. This subculture has even spawned an international "Wal-Mart Bound" club, whose only requirement for membership is having camped in at least five Wal-Mart parking lots.
This is Nowhere filmmakers Doug Hawes-Davis and John Lilburn present a light tongue-in-cheek look at this slice of American social culture. Approximately 8.2 million Recreational Vehicles are on the nation's roads. There are as many as 30 million RV enthusiasts and tens of thousands of them hit the road each year in search of Wal-Mart parking lots. What drives an owner of a $100,000+ Recreation Vehicle/Motor Home to camp free in a Wal-Mart parking lot?
This question (and more) is answered when we visit with some of these campers as they come through Montana. The filmmakers treat this group of "affluent homeless" with respect as we hear and see about their chosen life-style. We share moments with a widower and his companion cat, a couple from Alaska, a recreational gold prospector couple, an retired-policeman and wife who have been shopping-center-camping for over 40 years, a retired aerospace engineer, along with numerous retired and empty-nest couples accompanied with their pets. We even meet a man with his young children extolling the richness of this way of life, "Short of riding a bicycle across country... this is about as close as you can get, because you can stop anywhere and meet the local folks... and what better place than the local Wal-Mart". Some of our campers even sold their homes and live exclusively in their RV's. These full-timers make up yet another strata of the Wal-Mart subculture.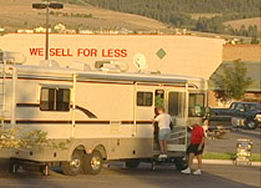 The documentary (true to its title) is loaded with irony. "Every day you see something different. Look at where we are sitting here, we are at the base of these mountains, and yesterday we were on the plains." The camera pulls back from a view of the foothills to a Wal-Mart store and parking lot. We hear from Wally Worlders about their desire to follow in the footsteps of Lewis & Clark, exploring this great land. But they do so towing their creature-comforts, "revitalizing" chair vibrators, multiple televisions with multiple video satellite dishes, video players, microwaves, wine racks, ice-makers, marble flooring, stoves, ovens, refrigerators, washer/dryers, toilets, showers, queen-size beds, GPS systems, computers, etc.
We hear of their wish to explore the differences in this country, yet they gravitate to the homogeneous and ever-dominating Wal-Mart landscape and culture. However, if there happens to be something of special interest in the area, they will check it out, "like Disney Land, Disney World and other theme parks". One camper even goes exploring and recreating on his ATV, through and around the Wal-Mart parking lot. We also get to share another one of their great travelling pleasures, the joy of shopping in the Wal-Mart store itself. One couple even carry walkie-talkies so they can communicate should they get separated in the store.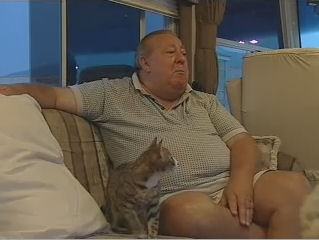 While the topic of the documentary is the phenomena of Wal-Mart camping, we are gently exposed to other social concerns worthy of reflection; consumerism, cultural differences, freedom, civic pride, and the price of oil and the affects it has on our way of life. Our Wal-Mart guests are not shy about sharing their thoughts, beliefs and dreams. While they are treated with fairness and honesty, the filmmakers are also not reticent in underscoring the many ironies proposed by the interviewees. The soundtrack is also used with great effect to stress these ironies. This is Nowhere is enriched by the inclusion of the unique stylings (and often commentary-ridden lyrics) of Ned Mudd. The Incontinentals and Judge & The Jury provide additional music.
Filmmaker Doug Hawes-Davis discussing the documentary: "We took it on because we're interested in the contradiction between wanting to experience nature and experience the cultures and history in various regions of the United States. A lot of them (campers) recognize some of the contradictions and absurdities of camping at a Wal-Mart. Even RV'ers themselves don't deny it."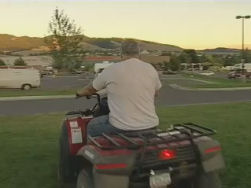 The DVD

Video: 4:3 -- Quality is quite good considering the source (Betacam, DVCAM)
Sound: Dolby Stereo -- Quality is good with just a few vocal drops.
Broadcast Version: 57 minutes
Feature Version: 87 minutes
This is Nowhere Trailer: 2 minutes
High Plains Films Trailers: 8 minutes
Website: This is Nowhere