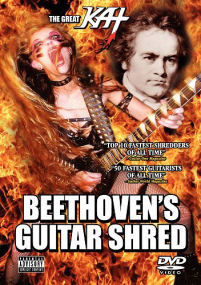 The Great Kat – Who Shall Not Be Denied!

The Great Kat: Beethoven's Guitar Shred (2009, TPR Music, Distributed by Music Video Distributors)


… And after viewing her latest DVD, Beethoven's Guitar Shred, how would I dare deny her anything?

The Great Kat (nee Katherine Thomas) has been showered as one of the top 10 fastest shredders of all time (Guitar One Magazine) and one of the 50 fastest guitarists of all times (Guitar World Magazine). She herself doesn't shrink from decreeing herself as the "Shred Goddess" and the "reincarnation of Beethoven". For prime evidence of these claims, we have her latest DVD offering from TPR Music, Beethoven's Guitar Shred.

As a notable alumnus of The Juilliard School (diploma in 1982 for Violin) she shares this honor with Van Cliburn, Yo Yo Ma, John Williams, Steve Reich, Chick Corea, Miles Davis, Philip Glass and David Bryan of Bon Jovi. Of these notables, believe it or not, she is more closely tied to Van Cliburn and Yo Yo Ma than David Bryan. While her roots are solidly based in the masters of classical composition (Beethoven, Bach, Wagner and Paganini), she branches with the wild influences of Ozzy Osbourne, Judas Priest and Jimi Hendrix. In her goal to bring the great classics to the masses, The Great Kat transcribes the great composers' scores note-by-note transcending them into shred violin/guitar scores infused with heavy metal. Not to be denied, she flourishes these works with performances that make Ozzy Osbourne and Alice Cooper pale in comparison.

The latter is where her video collections (Beethoven's Guitar Shred and Extreme Guitar Shred) hit the masses on their backside and with an occasional slap to the side of the head. When asked why her stage presence centers around images of S&M, blood, gore and torture, she replied, "That's the whole purpose of art and music -- to wake people up with extreme music and images and get them out of their lethargic, pathetic lives!"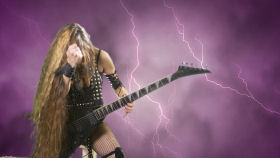 Her latest DVD release amps this up beyond Spinal Tap's famous 11! Paganini's Caprice #24 video is staged as a bloody black magic production. Beethoven's 5th Symphony finds the Great Kat as a metal studded dominatrix along with her blind-folded Kat Slaves. Bach's Brandenburg Concerto #3 is a Ken Russell meets Victoria's Secrets period piece. While Rimsky-Korsakov's Flight of the Bumblebee almost appears tame, yet for the leather & fish-net stockings dominatrix outfit. Aside from the shredded classical music selections, we are presented with some self-composed pieces, Torture Techniques (with the Great Kat administering torture in her dungeon of pain), Blood (with more buckets of blood than we saw in Carrie) to Islamofacists (with images befitting web videos aired on al-Jazeera).

While the videos may be shocking and offensive to some, they are a convincing validation toThe Great Kat's claim to be the "high priestess of guitar shred's virtuosity". The classical music selections highlight not only her shred virtuosity on the guitar, but violin as well. Beethoven's Guitar Shred DVD presents a greater evidence of The Great Kat's skill than her previous offering (Extreme Guitar Shred). On the latest DVD, the audio mix of her guitar/violin is more present and the viewer is given ample opportunities to witness her lightning speed and blinding virtuosity. While she is indeed quick and nimble on the strings, she plays with a clarity and exactness that belies her swiftness.

The Great Kat's own compositions on the disc are not up to those written by the masters, but even then, her ability to dazzle you with her speed and skill are not to be missed. In addition to the 7 shred videos, the disc includes a Kat Kartoon featuring our High Priestess of Shred doing the Flight of the Bumble-Bee and 4 short bonus features with more Great Kat music. Overall, I give Beethoven's Guitar Shred 1-1/2 more shredded bow-strings than her 2005 DVD Extreme Guitar Shred. Be forewarned, this DVD carries a Parental Advisory- Explicit Content sticker – and rightly so!
Trailer and other Great Kat info at GreatKat.com






Running Time: approx. 20 mins
Audio: Stereo
Video: 4:3

Contents:
Rimsky-Korsakov: Flight of the Bumblebee
Torture Techniques
Paganini: Caprice #24
Blood
Beethoven: 5th Symphony
Islamofacists
Bach's: Brandenburg Concerto #3

4 Bonus Features:
Hot Shred 2
Shred Geniuses
Metal Fugue: Bach's The Art of the Fugue
Shred Credits

Kat Kartoon: The Flight of the Bumble-Bee